Our Essential Idioms List
If you're looking for an essential English idioms list, you're in the right place! Here you can download our free PDF document that includes hundreds of popular expressions to take your English to the next level.
There are an estimated 25,000 idiomatic expressions in English so it's vital to learn idioms if you want to understand native English speakers and reach a high level of English.
That's why there's a huge list of idioms on this website.
We have created images to help you understand and remember many of them. Click here if you'd like to get our free illustrated idioms ebook.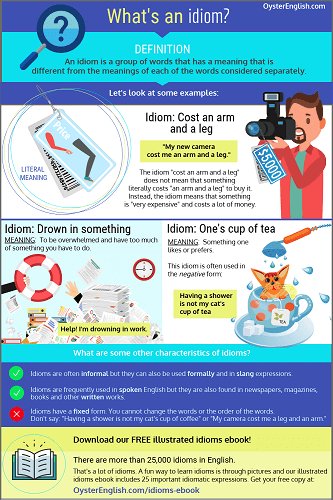 We've organized other expressions into infographics and themes. We've also sorted them in A-Z idiom lists by keyword. 
Finally, if you're searching for a particular idiom, you can check the index below.
By the way... you do know what an idiom is, right?
If you're unsure, it's a good idea to review the definition before you get started learning these expressions.
I've made an infographic with the definition, some characteristics of idioms and a few good examples. Click here to see the infographic.
Free PDF download:  250 Essential idioms list
In this free download, we've included 250 really useful English idioms with their meaning and a few sentence examples. However, sometimes it's helpful to read several sentence examples in order to really understand the meaning.
That's why you'll notice that each idiom in the PDF document is linked back to the page on this website where you can read more examples of that particular idiom. This way you can access more examples if you need them but the document is not too long.
Simply click on any idiom in the document if you want additional sentence examples. It's that easy.
Ready to download? Click here to access the document.
A-Z idioms list
The A-Z list below allows you to find idioms on this website by keyword.
For example, on the "B" idioms page, you can find idioms related to the keyword "back." In that section you'll find idioms such as back away, back off, back on one's feet, back out, back to back, back to square one, stab someone in the back, etc.
A   B   C   D   E   F   G   H   I   J   K   L   M   N   O   P   Q   R   S   T   U   V   W   X,Y,Z
In addition, below, you'll also find an index of the non-visual idioms on this site. Pictures have been created for as many idioms as possible but sometimes that's not easy to do. Fortunately, you can still learn the meaning easily by reading the phrase in a variety of example sentences. That's the reason you will usually find 5-20 sentence examples given for each expression.
Visual idioms list
Sometimes a picture can help you remember an idiom or at least understand some of the vocabulary within the expression. There hundreds of idiom illustrations on this site.
Click here to see all of the visual idioms included on this site.

By the way, if you have a Pinterest account, you can pin as many as you like to one of your boards for future reference.
Scrolling through your Pinterest images frequently can help you better remember these phrases because you can see them again and again to refresh your memory.
Idioms list by themes
We've also organized some of our lists of idioms by theme. It's hard to memorize a long list but it can be convenient to try to learn 5-10 of them at a time.
These infographics will hopefully make it more interesting to learn a handful at a time.
Funny idioms list
Do you like to laugh? Then check out these comics by clicking here. Idioms are perfect for expressing sarcasm, irony and double meanings.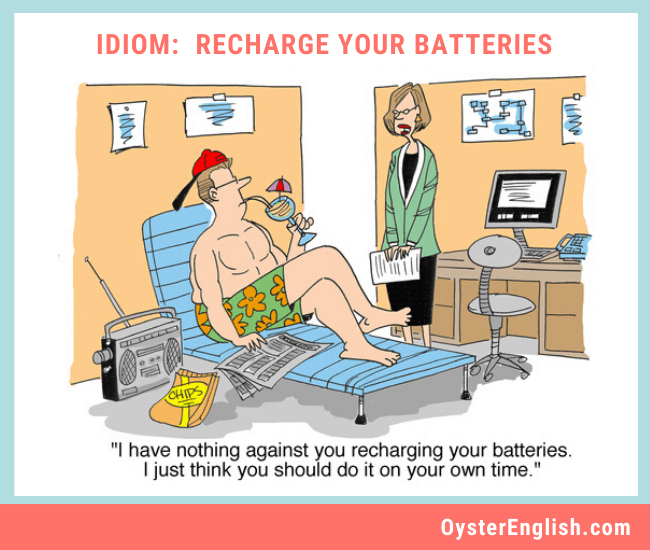 a ton of sth | bore the pants of sb | jump (right) in | kick in | leave a paper trail | on paper | a pain in the neck | recharge your batteries | see eye to eye | take to sb/sth | talk past each other | while the cat's away (the mice will play) 
Our idioms list (index)
Below, you can find a list of most of the non-visual idioms on this site.  There are a lot of idioms to learn and these are all useful ones.
This list is expanding each week so please signup for the newsletter so you can get notified of new additions.
A idioms
from A to Z | able to do (sth) with one's eyes closed | able to do (sth) blindfolded | about time | about to (do sth)| above all (else) | above the law | above suspicion | none of the above | absent-minded | take (something) into account | act your age | act out | act up | a tough act to follow | catch someone in the act | clean up one's act | get one's act together | in action | take action | a piece of the action | actions speak louder than words | add up | without further ado | take advantage sb/sth | afraid of one's own shadow | after all is said and done | after the fact | against one's will | ahead of time | ahead of the game | ahead of schedule | clear the air | vanish into thin air | in the air | off the air | on the air | air one's dirty laundry | out of thin air | up in the air | rolling in the aisles | alive and kicking | all along | all at once | all ears | all eyes are on sb/sth | all thumbs | all very well | at all | leave someone at the alter
B idioms
back away (from sth/sb) | back down (from sth/sb) | back off | back on one's feet | back out (of sth) | back to back | back to square one | behind sb's back | stab someone in the back | watch your back | not (half) bad | bad blood | bad mouth (sb) | have bag's under your eyes | pack sb's bags | drop the ball | get the ball rolling | have a ball | bang for the buck | bang one's head against the wall | bank on something | drive a hard bargain | more than sb bargained for | bark is worse than one's bite | off base | touch base | be-all and end-all | be game | be into sth/sb | be off | be over | bear a grudge | bear in mind | bear out sth | blind date | breathe easy | in brief
C idioms
have one's cake and eat it too |(sth) takes the cake | icing on the cake | call for (sth) | call in sick | call it quits | call off sth | call on (sb) | close call | on call | sth to call your own | too close to call | can't hold a candle to (sb/sth) | hold all the cards | in the cards | play your cards right | lay all your cards on the table | someone couldn't care less | take care (of yourself) | take care of (sb/sth) | who cares? | carry on | carry sb through (sth) | get off sb's case | in any case | in case | in case of sth | just in case | make a case for sth | on sb's case | on the case | let the cat out of the bag | catch someone off guard | catch up on sth | would not be caught dead | caught up in sth | fat chance | give half a chance | have a fighting chance | not a chance/no chance | not have a snowball's chance in hell/no chance in hell | on the off chance | stand a chance | take one's chances | crack up
D idioms
shoot daggers at sb | keep sb in the dark | bring sb up-to-date | bring sth up-to-date | keep (sb/sth) up-to-date | to date | dawn on someone | a day late and a dollar short | as plain as day | call it a day | day after day | day and night (night and day) | day by day | day in and day out | from day one | in this day and age | just another day | late in the day | make sb's day | not sb's day | one day (some day) | save sth for a rainy day | save the day | the other day | at the end of the day | in broad daylight | sb's days are numbered | has seen better days | one of those days | those were the days | dead set against sth | in the dead of winter | a done deal | a great deal (of sth) | big deal | cut a deal | bore sb to death | love sb to death | scare sb to death | scared to death | tickled to death | deck sb/sth out | hit the deck | stack the deck against sb | clear the decks | in demand | on demand | make a dent in something | in depth | out of one's depth
E Idioms
to each one's own | grin from ear to ear | have an ear for sth | have sb's ear | in one ear and out the other | keep an ear out (for sb/sth) | play it by ear | turn a deaf ear (to sth) | get an earful | all ears | not believe your ears | fall on deaf ears | early on | it's early days (yet) | wet behind the ears | music to sb's ears | at ease | ill at ease | eat someone alive | eat away at sth | eat sth up | eat crow | eat like a horse | eat sb out of house and home | eat one's words | at the edge of their seat | lose one's edge | on edge | on the cutting edge (of sth) | live on the edge | take the edge off | walking on eggshells | in one's element | running on empty | at the end of the day | at one's wit's end | end of/end of story | end up | get the short end of the stick | go off the deep end | in the end | ever/never hear the end (of it) | (to) no end | no end in sight | not the end of the world | on end | on the receiving end | end of the line/road | to the bitter end
F idioms
blow up in your face | face to face (with sth) | in sb's face | (let's) face it | face facts | lose face | off the face of the earth | put on a brave face | save face | stare sb in the face | stuff your face | to tell sb (sth) to their face | (until sb is) blue in the face | written all over sb's face | keep a straight face | take sth at face value | without fail | if all else fails | fair and square | fall apart | fall back on (sth) | fall flat on one's face | fall for sb | fall for sth | fall through | take the fall for (sb/sth) | run in the family | as far as | by far | far and wide | far from it | so far | so far, so good | bet the farm | seal sb's/sth's fate | tempt fate | to a fault | ruffle sb's feathers | fed up (with sb/sth) | a feel for sth | feel for sb | feel free to do sth | (not) feel like yourself | no hard feelings | drag your feet | both feet on the ground | find your feet | get your feet wet | jump in with both feet | knock you off your feet | land on your feet | put your feet up | six feet under | stand on your own (two) feet | sweep sb off their feet | think on one's feet
G idioms
ahead of the game | back in the game | sb has got game | play the game | the only game in town | play games | gang up on sb | run out of gas | step on the gas/step on it | shift gears/switch gears | the genie is out of the bottle | get sth across | get ahead | get along (with sb) | get around sth | get around to doing sth | get away from it all | get away with sth | get back at sb | get by | get in | get sth in | get it together | get lost | get off easy/lightly | get on with sth | get out of doing sth | get real | get sth out of sb | get sth over with | get somewhere/anywhere | get through to sb | from the get-go | give and take | give in (to sb/sth) | give it to sb straight | give or take | give out | give up | give up sth | see the glass half full | see the glass half empty | through rose-colored glasses | glued to sth | go all out | go along with (sb/sth) | go around in circles | go back on sth | go easy on sb | go for sth
H idioms
kick the habit | can't hack it | have had it (with sb/sth) | had better | hail from somewhere | let your hair down | make your hair stand on end | pull/tear one's hair out | split hairs | half the battle | half a mind to do sth | how the other half lives | not half bad | (not) the half of it | grind to a halt | hammer sth home | hammer out sth | at hand | bite the hand that feeds you | by hand | change hands | do sth with one hand tied behind your back | force sb's hand | get your hands dirty | give (lend) sb a hand | go hand in hand | hand down sth | hand out sth | hand over sb/sth | have the upper hand | have your hands full | have sb/sth on your hands | keep your hands off sth | lay a hand on sb | on hand | on the other hand | your hands are tied | out of hand | shake sb's hand | try your hand at sth | wash your hands of sb/sth | wait on sb hand and foot | get the hang of sth | hang around | hang in there | hang it up | hang on | hang onto | hang sb out to dry | hang out (with sb) | hang tough | hang up | hang up on sb | a match made in heaven | hit it off | get hitched | eleventh hour | happy hour | lunch hour | rush hour
I idioms
break the ice | put something on ice | icing on the cake | float an idea | not have the faintest idea | if worst comes to worst | in a bad mood | in a bad way | in a bind | in a family way | in a hurry | in a jam | in a jiffy | in a little bit | in a mad rush | in a pickle | in a pinch | in a rush | in a rut | in and of itself | in a sense | in a split second | in a stew (about sth) | in a stupor | in a tight spot | in a word | in a world of your own | in advance | in all likelihood | in all shapes and sizes | in any case | in any event | in arrears | in bad faith | in bad taste | in black and white | in broad daylight | in bulk | in charge (of sb/sth) | in conjunction with (sb/sth) | in deep water | in depth | in flux | in on sth | every inch of sth | give an inch | under the influence | take the initiative | ins and outs of sth | know sth inside out | turn sth inside out | add insult to injury | for all intents and purposes | iron sth out | several irons in the fire | to take issue with sb/sth
J idioms
jack of all trades | jack up sth | hit the jackpot | jam on the brakes | jam packed | jam on it | one's jaw drops (open) | and all that jazz | be jazzed about sth | in jeopardy | jerk sb around  |in jest | do the job | on the job | jockey for position | jog your memory | join forces (with sb) | join hands (with sb) | join in | join the fray | joined at the hip | no joke | play a joke on sb | take a joke | jot sth down | jump for joy | against your better judgment | pass judgment on sb/sth | sit in judgment of sb/sth | get a jump on sb/sth | jump all over sb | jump at sth | jump down sb's throat | jump in with both feet | jump off the deep end | jump off the shelves | jump out of one's skin | jump the gun | jump to conclusions | the jury is still out | just in case | just now | just what the doctor ordered
K idioms
keep abreast of sth | keep after sb | keep at sth | keep sb down | keep sth down | keep sb posted | keep quiet about sth | keep to sth | keep to yourself | keep sth to yourself | keep up sth | for keeps | keyed up | get a kick out of sth | kick in | kick yourself | kick sth around | kick back | kick off sth | kid around | the new kid on the block | kill time | make a killing | out of kilter | one of a kind | not take kindly to sth/sb | kiss and make up | kiss and tell | kiss sth goodbye | bring sb/sth to its knees | twist the knife | (go) under the knife | knock it off | knock sb out | knock sb up | before you know it | in the know | know better (than to do sth) | know where you stand | not know what hit you | not know where to turn | not know whether to laugh or cry | knuckle down
L idioms
lag behind (sb/sth) | land on your feet | speak the same language | fall into your lap | by and large | lash out (at sb/sth) | at (long) last | hear the last of sb/sth | last but not least | latch on to sb/sth | better late than never | late in the day | at the latest | have the last laugh | laugh at sb | laugh off sth | laugh all the way to the bank | launch into sb | launch into sth | above the law | lay down the law | take the law into your own hands | lay into sb | lay off (sth) | lay sb off | layover (noun or verb) | lead sb astray | lead off (sth) | lead sb on | leaf through sth | take a leaf out of sb's book | turn over a new leaf | in the same league (with/as sb or sth) | out of your league | lean on sb/sth | lean over backwards | (grow) by leaps and bounds | a new lease on life | keep sb on a tight leash | at (the very) least | not in the least | the least you can do | leave sb alone | leave sth alone | leave sb hanging | leave sb high and dry | leave it at that | leave sth open | leave out sb/sth | leave sth to be desired | take leave
M idioms
made for each other | make believe | make do | make for sth | make good on sth | make it | make it big | make it up to sb | make light of sth | make off with sth | make or break sth | make over sb/sth | make sb sick | make sth out of nothing | make sth up | make up | make up sth | make up for sth | what makes sb tick | in the making | of your own making | have all the makings of sth | every man for himself | man enough (to do sth) | map out sth | put sb/sth on the map | hit the mark | leave your mark | make your mark | mark down sth | mark up sth | off the mark | in the market for something | on the market | a marriage made in heaven | a match made in heaven | meet one's match | a matter of doing sth | a matter of life and death | a matter of time | as a matter of fact | for that matter | no laughing matter | no matter (what/how/when, etc.) | max out (max sth out) | to the max | me, neither | me, too | mean well | mean business | a means to an end | (live) beyond one's means | by all means | by no means | (live) within sb's means | in the meantime | for good measure | measure up (to sb/sth) | meet sb halfway | meet up (with sb) | make ends meet | melt away
N idioms
hit the nail on the head | (a) nail in sb/sth's coffin | tough as nails | clear sb's name | give sth a bad name | in name only | in sb's name | make a name for yourself | the name of the game | drop names | call sb's name | name names | near and dear to sb | break sb's neck | breathe down sb's neck | neck and neck | sb's neck of the woods | risk your neck | stick your neck out | if need be | (sth) is all one needs | in the neighborhood of sth | get on sb's nerves | lose your nerve | touch a (raw) nerve | break the news | that's news to me | next to | next to nothing | in the nick of time | night and day | get the nod | nod off | follow your nose | keep your nose clean | keep your nose out of sth | keep your nose to the grindstone | look down your nose at sb/sth | nose around | powder your nose | stick/poke your nose into sth | turn your nose up at sth | under sb's nose | not feel like yourself | a notch above (sb/sth) | make a mental note | take note of (sb/sth) | compare notes | nothing much | there's nothing to it | at a moment's notice | (on/with) short notice | take notice (of sb/sth) | (every) now and again | (every) now and then | (it's) now or never
O idioms
rise to the occasion | occur to sb | against the odds | odds and ends | at odds with sth | of course | of late | off and on | no offense | the same old same old | on a diet | on and on (and on) | on a shoestring | on the wait/waiting list | all at once | at once | once again | once and for all | give sb/sth the once over | one after the other | one and only | one and the same | one by one | one up (on sth/sb) | one and only | only just | only too | open to sth | open up | (out) in the open | wide open | keep one's options open | in short order | out of order | out from under (sth) | out loud | out of it | on the outs
Q idioms
(in) a quandary | in close quarters | beyond question | call into question | in question | no question | out of the question | without question | no questions asked | quick on the uptake | quiet as a mouse | quite a bit | quite a few | quite a lot
V idioms
in a vacuum | in vain | vanish into thin air | with a vengeance | on the verge | very last | very thing | in the vicinity | vicious circle | in view of sth | on view | take a dim view | by virtue of sth | pay a visit to sb/sth | a lone voice in the wilderness | fill a (the) void | speaks volumes | vouch for sth | vote sth down
W idioms
wade through something | (fall) off the wagon | on the wagon | wait and see| wait on someone | wait out something (wait something out) | wait on someone hand and foot | wait tables | in the wake of something | wake up to something | wake up and smell the coffee | take a walk | walk all over someone/something | walk off with something | walk out on someone/something | walk the walk | walk (someone) through something | drive someone up the wall | off the wall | a fly on the wall | (with) your back against the wall | want for something 
X, Y & Z idioms
x marks the spot | year after year | year in, year out | (all) year round | in years | getting on in years | yell bloody murder | yes, man | you can say that again | you can't take it with you | you can't teach an old dog new tricks | you get what to pay for | by yourself | keep something to yourself | yours truly | zero in on something | zip one's lips | zone out | zoom in on something
Get our free idioms in pictures ebook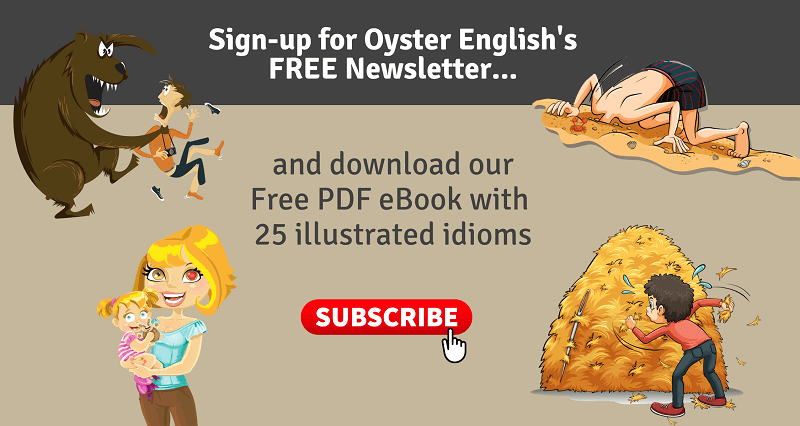 Idioms List