Idiom:  spring to mind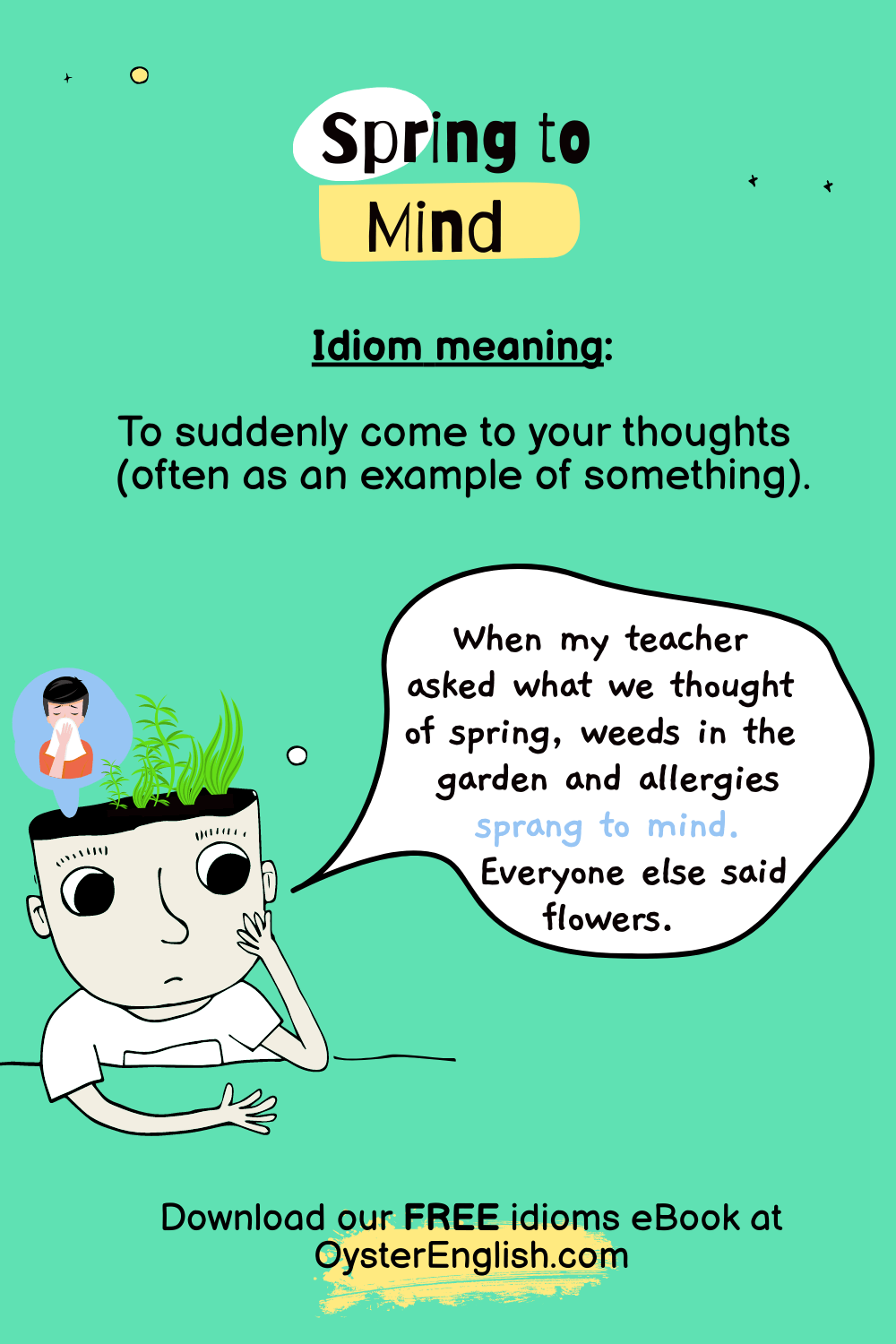 Meaning
Idiom:  spring to mind

to suddenly come to your thoughts
Note: This thought that comes to your mind is often an example of something.
Also note that the past tense of the verb "spring" is irregular:  sprang (NOT springed).
Example sentences
— When I think of the 80s, big hair, the Rubick's cube, Atari, shoulder pads and Duran Duran  spring to mind.
— A: "Hot dogs for breakfast?"  B: "Sorry, honey, it was the first thing that sprang to mind."
— The psychiatrist asked me what springs to mind when I get angry with my wife.
— What do I think of Donald Trump? The first thing that springs to mind is MAGA hats and golden painted toilets.
— I really wish my daughter wouldn't always say what springs to mind but she's only two-years old.
— The interviewer asked me what springs to mind when I hear a thunderstorm. It was weird and I'm not sure what she was trying to understand.
— There's a quote that springs to mind in this situation: there's no time like the present.
— The first question that springs to mind is "why" do you want to get another dog when you can barely take care of yourself?
— Twenty years later, visions of my ex-girlfriend still spring to mind every Valentine's day.
— It's a difficult question but I think Olga Korbut springs to mind when I think of the first athlete that inspired me.
— The only thing that sprang to mind when I won the award was to thank my cat for always being there for me. 
— When it comes to vacation spots, Italy and France often first spring to travelers' minds.
— One example of healthier eating that springs to mind is incorporating healthy fats like olive oil and avocados into your diet.
Synonyms
comes to mind
crosses your mind
goes through your head
dawns on someone
You might like these idioms
More idioms will be added in the future so check back frequently or sign-up for my free newsletter to learn about new updates to my website.
Idiom: Spring to mind