An easy learning English lesson from the heart
Candy Chang: Before I die I want to....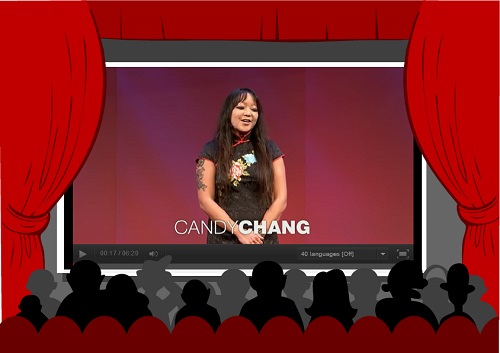 This easy learning English video lesson will help you think about things that are most important in life. Students at any English level can learn from this lesson. Students can watch the video with subtitles in English or in 40 other languages. There is also a transcript in English (see information below).

How to do this lesson:
Step 1:  Watch the video. Click below to start the video.
Step 2: Take the quiz. It's short and will test your understanding of the video.
Step 3: For extra help or practice, read the transcript or watch the video with subtitles (in English or in your own language if available).
Step 4: Write a comment. This is the most important part!

Easy learning English lesson part #1: Watch the video
Candy Chang is an artist, designer, and urban planner. She looks at how we can make cities more comfortable and thoughtful places, where we can better understand and know our neighbors.

Click below on the arrow to watch the video.

Part #2: Quiz to test your comprehension 
Check your understanding by taking a short quiz. Click here to begin.

Part #3: Read the transcript or watch the video with subtitles
Transcript of Candy Chang's speech: 
There are a lot of ways the people around us can help improve our lives. We don't bump into every neighbor, so a lot of wisdom never gets passed on, though we do share the same public spaces.
So over the past few years, I've tried ways to share more with my neighbors in public space, using simple tools like stickers, stencils and chalk.
And these projects came from questions I had, like, how much are my neighbors paying for their apartments? (Laughter)
How can we lend and borrow more things without knocking on each other's doors at a bad time?
How can we share more of our memories of our abandoned buildings, and gain a better understanding of our landscape?
And how can we share more of our hopes for our vacant storefronts, so our communities can reflect our needs and dreams today?

The entire transcript and instructions for how to view the video with English subtitles are provided here. There may also be subtitles provided in your own language (this video is translated into 40 languages!)
Part #4: Your turn to write
This talked about the power of people sharing their hopes and dreams in a public space. Think of this webpage as a chalkboard where you can share your thoughts. You do not have to write your own name. Just write your thoughts so you can practice your English.
Also, check out the comments from other learners.
It's AWESOME to see so many of you actually take the time and effort to practice your English here. Keep it going!
Share your thoughts about Candy Chang's TED Talk!
Want to improve your English? Here's your chance. Listening is good, but writing is even better. Why? Because you have to produce your own sentences. It's easy. It would be great to see what English language learners want to do with their lives. So the big question to answer of course is:

- Before I die I want to _____________.

You may also want to write some comments about her talk.

- What was interesting about her talk?

Write anything you want. Just write something. This is your chance to improve your English.
Thanks for visiting!


What Other Visitors Have Said
Click below to see contributions from other visitors to this page...

You can also watch Candy Chang's TED Talk on their website.

Before I die I want to... TED Talk