Learn English Language Online Free Lesson: 
Underwater Astonishments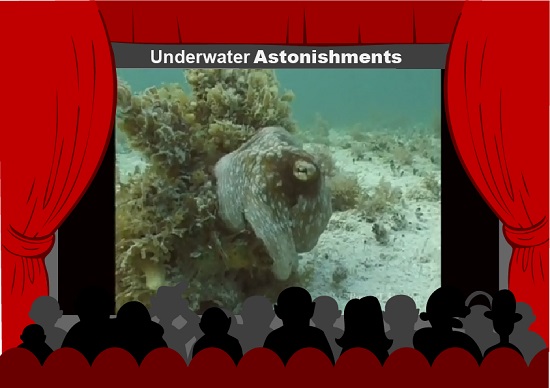 This Learn English language online free video lesson based on a TED Talk by David Gallo.
Have you ever wondered what's going on way down at the bottom of the ocean?
Perhaps you are a scuba diver and already know. I've been snorkeling and it's a lot of fun and can be very beautiful but it's really close to the surface.
So, I was really excited to see this short video about the underwater world.
I learned a lot myself so I hope you will not only learn some new English words, but also learn some cool facts too.

Is this your first learn English language online free TED Talk lesson?
Click below on the arrow to watch the video.

These TED Tuesday learn English language online free lessons are super easy to watch and they're short so you can practice your English without feeling exhausted.
I advise that you watch it twice if you have time so you can practice listening (it's amazing how much more you can hear the second time).
3 easy steps for doing this
learn English language online free lesson: 

Step 1: Click on the video above.
Step 2: Read the transcript or watch the video with subtitles. You will also find some definitions of some of the words. Sometimes you can also find the transcript and subtitles in your own language.
Step 3: There's a SHORT quiz (5 questions) to test your understanding.
Step 4: NEW! A vocabulary puzzle is available for practice here.

Step #2: Watch the video again with subtitles &/or read the transcript to learn new vocabulary words

Click below to get the entire transcript (this is just part of it).
Transcript of David Gallo's talk: 
We're going to go on a dive to the deep sea, and anyone that's had that lovely opportunity knows that for about two and half hours on the way down, it's a perfectly positively pitch-black world.
And we used to see the most mysterious animals out the window that you couldn't describe: these blinking lights—a world of bioluminescence, like fireflies.
Dr. Edith Widder—she's now at the Ocean Research and Conservation Association—was able to come up with a camera that could capture some of these incredible animals, and that's what you're seeing here on the screen.
That's all bioluminescence.
So, like I said: just like fireflies.
There's a flying turkey under a tree. (Laughter)

Step #3: Take the quiz 
This short listening comprehension quiz will help you test  your understanding. It's short and easy... TAKE the quiz (no pain, no gain).
Step #4:  Do the crossword puzzle

You can also watch this video on Ted's website.
TED Talk: Underwater Astonishments