Learn English Have Fun News
Geneva Happenings

Open the newsletter
Click this link (or on the photo below) to open the newsletter. It's a PDF file and will open in a separate window so you can print the newsletter if you want.
You can listen to the audio below and read the newsletter at the same time.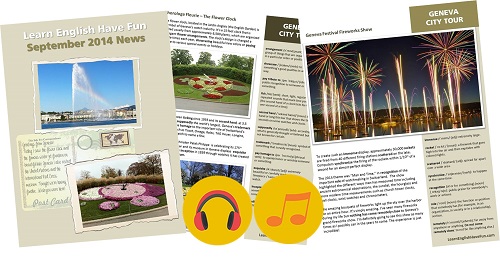 Audio recording
Click the audio player below to hear me reading the newsletter. Be sure to OPEN the newsletter above.
That way you can read the full article, be able to see the photos, and get the vocabulary definitions. You will probably learn some new vocabulary words in the article.

So, what did you think of Geneva?
I would love to hear your comments. When you write feedback (comments), it helps YOU practice your English and it helps ME know how I'm doing and what I can do to improve the newsletter.
I hope you will leave a message below or write me a message via my contact page.

All the best,

Nicole

Have you signed-up for the newsletter?
If you found this page but haven't signed-up for the newsletter you can enter your name and email in the box at the right and you will receive the next issue.