Compound Nouns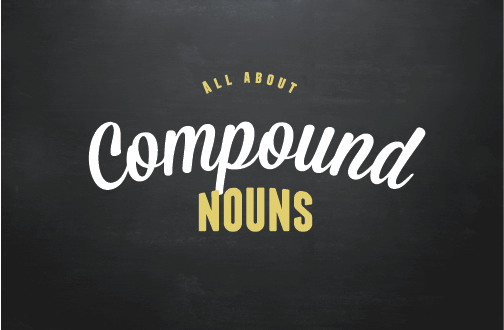 Compound nouns are nouns that are made up of two or more words.
Examples:  backspace, blackboard, copyright, daylight, downstairs, earring , everything , haircut, handwriting, toothpaste, weekend, lipstick, keyboard, daughter-in-law, merry-go-round, well-being
Most (but not all) compound nouns have two words. The first word usually describes the person or thing and the second word identifies who or what the thing is.

Describes type or purpose (first word)





+


Identifies who or what (second word)





=


police

police

girl

dry

bed


man

car

friend

cleaning

room


policeman

police car

girlfriend

dry-cleaning

bedroom

Before we continue, please note that there are other forms of compound words  which function as different parts of speech:
ice-skater (noun):  Carolina Kostner is one of my favorite ice-skaters.
ice-skate (verb):  We ice-skated at the rink last night.
ice-skates (noun):  My ice-skates are white.
makeup (noun): I don't usually wear makeup.
make up (verb):  I can't make up my mind which makeup to buy.
Forming compound nouns
There are three forms:
Closed form:  formed by two separate words joined together.
Keyboard, notebook, postman, football, housewife, moonlight, eyebrow, eyelid, lawsuit, toothpaste, haircut, bedroom.
Hyphenated form: The words are connected with a hyphen -
mother-in-law, five-year-old, ex-husband, one-half, dry-cleaning, well-being, baby-sitter.

Open form: there is a space between the two words. Even though they are separate, both words together make the noun.
post office, full moon, vice president, ice cream, swimming pool.
So how do you know which form to use? You need to consult your good friend, Miss Dictionary. (You do have a quality dictionary, right?)
Even native English speakers struggle with this. Although we can use compound nouns effortlessly in speech most mother-tongue English speakers have to carefully think or use spell check or a dictionary to know if these words are open, closed or hyphenated.
Compound nouns by word class
Let's look at a few examples of by word classes.

| | | | |
| --- | --- | --- | --- |
| adjective | + | noun | full moon, blackboard, software |
| noun | + | adjective | mouthful, snow white |
| noun | + | noun | bus stop, firefly, toothpaste, football, bedroom |
| verb | + | noun | washing machine, breakfast, swimming pool, frying pan |
| noun | + | verb | sunrise, haircut, rainfall |
| verb | + | preposition | checkout, check-in, make up |
| preposition | + | verb | input, output |
| noun | + | prepositional phrase | mother-in-law, merry-go-round |
| preposition | + | noun | underline, up stairs, in service, off shore |
| adjective | + | verb | dry-cleaning, public speaking |
Finally, remember when in doubt, consult your dictionary for the correct form (open, closed or hyphenated).
Compound Nouns"