English Clothing Vocabulary
This English clothing vocabulary will come in handy when you go shopping or want to compliment someone who's wearing something you like. To hear the words pronounced in American English, please check out the video below. There is a pause after each item so that you can practice saying the words yourself.
Hear the clothing vocabulary pronounced
Get Your Free Vocabulary Puzzles eBook

Solving puzzles is a great way to learn vocabulary. This book contains more than 25 crossword, word search and word scramble puzzles on twenty (20) different topics. 

Along with the FREE ebook, you'll receive my weekly newsletter with tips, lessons and special offers just for my subscribers.

Enter your name and email address below to get your free copy.
Talking about clothing
There are many different ways to describe clothing. For example, there are many different types of shirts:  short-sleeved shirts, long-sleeved shirts, shirts with v-necks, polo shirts, button-up shirts, dress shirts, etc. I have given several examples in the video.
It doesn't matter if you don't know the exact name of a type of shirt. You can try to describe it if you need to.
What is your favorite clothing item? What do you like to wear every day? What do you like to wear to fancy events? Leave a comment below to practice your English.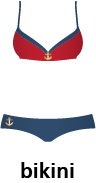 bikini:  clothing for women used for swimming that has a two pieces to cover the top and bottom of the body.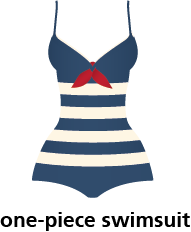 one-piece swimsuit/bathing suit:  a single item of clothing for women to wear swimming.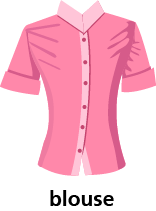 blouse:  a piece of clothing for women and girls that is a bit formal. It is sometimes made of finer materials like silk.
It can have buttons or not or be long-sleeved, short-sleeved or have no sleeves).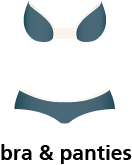 bra and panties:  clothing worn by women underneath their clothes.

button-down shirt:  a shirt with buttons in a line down the front of the shirt.

capri pants:  shorter pants with legs that go down to the calf.

dress:  a garment worn by women which covers both the top and bottom parts of the body.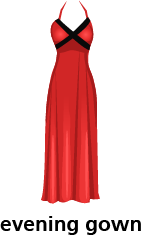 evening gown:  a formal dress usually worn in the evening for special occasions.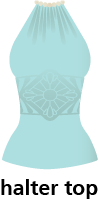 halter top:  a top worn by women that ties around the neck and does not have any sleeves.

jeans skirt:  clothing that covers the hips and legs and is made of jeans material.

pants:  clothing which covers the lower body and has an opening for each leg.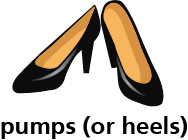 pumps or heels:  accessories which cover the feet that have a raised heel which is often pointy.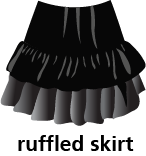 ruffled skirt:  a skirt with ruffles, which is material gathered into frills (as seen in the picture).

ruffled tank top:  a sleeveless top with ruffles - or material gathered into frills (as seen in the picture).

shorts:  pants that end above or at the knee.

skinny pants / skinny jeans:  a style of pants or jeans that is very slim so that they tightly fit to the legs, hips and buttocks.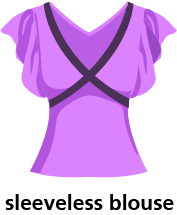 sleeveless blouse:  a fancy type of top for women that does not have sleeves.

stockings:  a very thin covering made of nylon or silk which cover the legs (which women usually wear with skirts and dresses). These are also called pantyhose.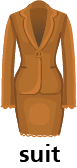 suit:  a two-piece set of clothing consisting of a jacket and a skirt (or pants).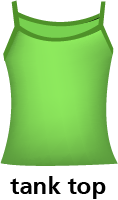 tank top:  a sleeveless top.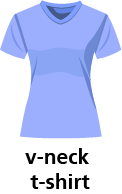 v-neck t-shirt:  a t-shirt with the neck opening in the shape of a "v."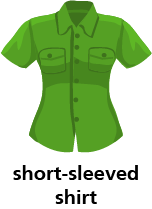 short-sleeved shirt:  any style of shirt with sleeves that come close or to the elbow.

baseball t-shirt:  a style of t-shirt that is similar to what baseball players wear.

cargo pants:  a style of loose fitting pants with several large pockets (especially on the side of the legs near the knees)

crew neck t-shirt:  a t-shirt with a round shaped neck.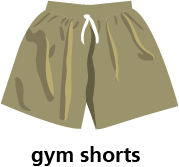 gym shorts:  cotton shorts that are often worn by students in athletics class at school.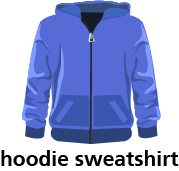 hoodie:  a type of sweatshirt that has a hood attached to it.


jeans:  a type of pants made of sturdy cotton material called jeans or dungarees.

jeans shorts:  jean pants that come to the knee or above the knee.

suit jacket and tie

suit jacket:  a formal jacket worn by men (usually with suit pans of the same material).
tie:  an long thin strip of material (usually silk or cotton) that is tied in a knot around the neck.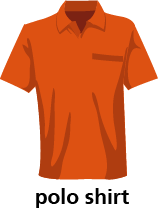 polo shirt:  a shirt with a color and usually a few buttons down the neck (so the shirt can be pulled over the head).

running shoes:  athletic shoes for running. Note: In American English "running" shoes can be used to talk about all casual athletic shoes.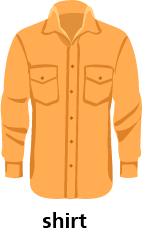 shirt:  a top with buttons down the front.

short-sleeved baseball t-shirt:  a short-sleeved shirt in the style of a baseball uniform top.

sweat pants:  casual pants often worn in the gym made of thick cotton and often have a draw-string at the waist of the pants and elastic at the bottom.

t-shirt:  a casual top usually made of cotton.

Check out some clothing idioms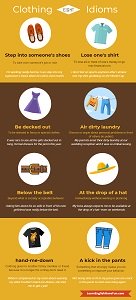 Your turn:  Practice your clothing vocabulary
There are many other types of clothes but hopefully this clothing vocabulary list has been helpful. Here are some questions you can answer to practice your English:
What types of clothes do you prefer to wear? 
Do you like formal or casual clothing? 
What is your favorite clothing item? Mine is a cashmere sweater. It's very warm and soft.
What do you wear to work or school?
Do you have traditional clothing in your country? What is it like?
You can either write the answers to these questions on a piece of paper or simply answer the questions out loud to yourself or with a speaking partner.


Clothing vocabulary